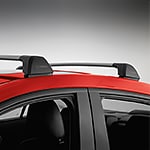 To make full use of your vehicle's roof rack, make sure to follow some of these simple strategies. While roof racks might sound simple and easy to use, the truth is that they can cause a lot of problems if not used properly. That's why here at Lakewood Happy Motors we've decided to put together an easy to follow list of techniques.
Firstly, make sure to always remove your rack when you're not using it. While it may not seem like it, roof racks can cause drag and reduce your vehicle's fuel efficiency.
Second, always make sure you're not biting off more than you can chew! Ensure you have the necessary amount of hands available before loading heavy objects onto your roof rack, since any fumbling could cause damage to your vehicle's paint job and overall value.
Finally, always read the manual! Certain roof racks have special features and techniques you might be unfamiliar with.
Feel free to service your vehicle here at Lakewood Happy Motors, where our team is more than willing to answer any questions you might have.