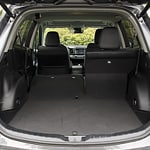 Crossover vehicles are a good choice for many reasons. When SUVs first came out on the market, drivers were ecstatic because they had a vehicle that could haul more cargo and handle various roads. The downside was that SUVs weren't fuel efficient and were often too big. The addition of crossovers to the industry gave drivers the perfect combination of car and SUV. Our team at Lakewood Happy Motors is excited to show you why crossovers are such a popular choice.
• Crossovers offer four-wheel drive, which provides better handling and traction on wet or icy roads.
• Crossovers offer more space than cars but still offer a comfortable ride.
• Crossovers offer many safety features.
• Crossovers are more fuel-efficient than SUVs.
• Crossovers are the perfect size for everyone.
If you're in the market for a great performing vehicle that offers space plus fuel economy, come to Lakewood and take a crossover out for a test drive.